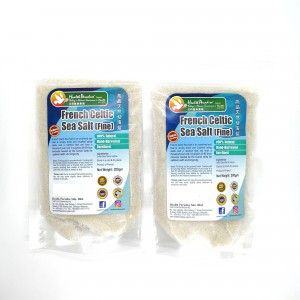 Out Of Stock
Secured Shopping
Best security features
Nationwide Shipping
Nationwide Shipping
Manufacturer Warranty
Manufacturer Warranty
[HEALTH PARADISE] French Celtic Sea Salt Fine (2x200GM) - SEASONING
✓100% Natural

✓Hand harvested
✓Unrefined
French Celtic Sea Salt is an unrefined Salt that is simply dried and crushed using skills
and a method that are over a thousand years old. It supplies all 82 trace minerals needed
by the human body for optimal health and longevity.
Uses: Finishing Salt for gourmet foods. Cooking salt for specialty dishes.
Detoxification of your body. It is best for sprinkling over a finished dish just before serving--
anything from salads to sandwiches to grilled fish and meats to sweets to fruit.
* Please note : Due to its natural harvesting process, this salt may arrive slightly damp
because of moisture in the salts*
Product of France
Unlimited custom tabs or blocks in any position and any sort order. Assign buttons to any block or create separate standalone Button modules and set up your own grid layout inside the products page.
Stock:

Out Of Stock

Model:

HP-French-Celtic-Salt-Fine-200GM

Weight:

0.50kg

Dimensions:

15.00cm x 16.00cm x 3.00cm

SKU:

HP-French-Celtic-Salt-Fine-200GM

MPN:

HP-French-Celtic-Salt-Fine-200GM
Products Sold: 0
Product Views: 601