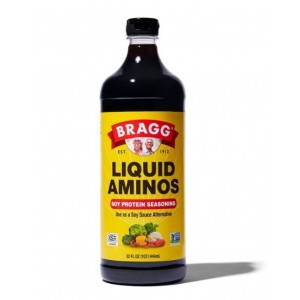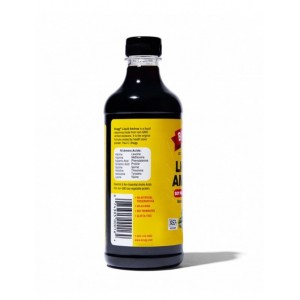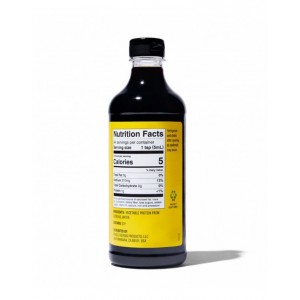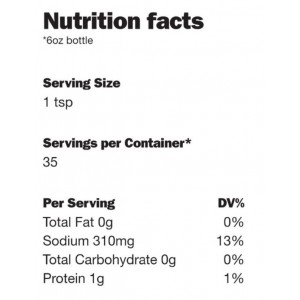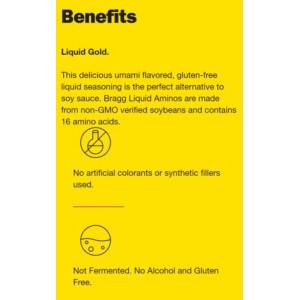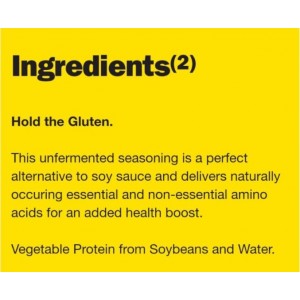 Secured Shopping
Best security features
Nationwide Shipping
Nationwide Shipping
Manufacturer Warranty
Manufacturer Warranty
BRAGG Liquid Aminos (946ML)- SEASONING
✓ Soy protein seasoning

✓ Use as a soy sauce alternative
✓ No aritificial preservative
✓ No alcohol
✓ No fermented
✓ Gluten free
BRAGG Liquid Aminos is a liquid seasoning made from non-GMO verified soy.
It is the original formula created by health store pioneer, Paul C. Bragg.
Ingredients: Vegetable protein from soybeans, Water.
16 Amino acids:
-Alanine
-Arginine
-Aspartic Acid
-Glutamic Acid
-Glycine
-Histidine
-Isoleucine
-Lysine
-Leucine
-Methionine
-Phenylalanine
-Proline
-Serine
-Threonine
-Tyrosine
-Valine
[Essential & Non-Essenial amino acids from non-GMO soy vegetable protein]
Visit www.bragg.com for health benefits & recipes.
*Refigerate and shake before opening as sediment may occur*
Product of USA
Unlimited custom tabs or blocks in any position and any sort order. Assign buttons to any block or create separate standalone Button modules and set up your own grid layout inside the products page.
Stock:

1000

Model:

bragg-liquid-aminos-(946ml)-seasoning

Weight:

1.00kg

Dimensions:

7.00cm x 6.00cm x 20.00cm

SKU:

bragg-liquid-aminos-(946ml)-seasoning

MPN:

bragg-liquid-aminos-(946ml)-seasoning
Products Sold: 0
Product Views: 686