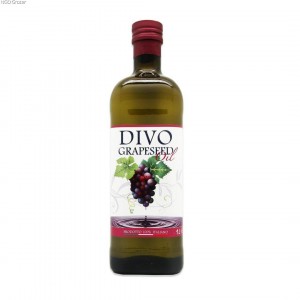 Secured Shopping
Best security features
Nationwide Shipping
Nationwide Shipping
Manufacturer Warranty
Manufacturer Warranty
DIVO 100% Grape Seed Oil Non GMO (1L) - SEASONING
Divo Grapeseed Oil is 100% product of Italy. It is extracted from grapeseed and particularly
appreciated for its light taste.
It is also used to dress salad, to fry and to bake all kinds of foods.
INGREDIENT:100% Non-GMO Grape Seeds
Highlight
✓The oil from grapeseed reduces LDL (bad Cholesterol) and increases HDL (good cholesterol), which
in turn helps in keeping your arteries clear.
✓Omega-3, Omega-6, and Omega-9 are the fatty acids found in this oil. These fatty acids benefit us by
forestalling any heart diseases
and influence the biological properties in our body.
✓Grape seed oil contains high levels of Vitamin E, which is a fat-soluble antioxidant. It aids in
preventing any cell membrane related injuries
Suitable for:
- Deep frying (has high Smoking Point of 215°C)
- Marinade
- Grill
- Dressing
Product of Italy


Unlimited custom tabs or blocks in any position and any sort order. Assign buttons to any block or create separate standalone Button modules and set up your own grid layout inside the products page.
Stock:

1000

Model:

Divo-Grape-Seed-Oil-Non-GMO-1L

Weight:

1.00kg

Dimensions:

23.00cm x 7.00cm x 5.00cm

SKU:

Divo-Grape-Seed-Oil-Non-GMO-1L

MPN:

Divo-Grape-Seed-Oil-Non-GMO-1L
Products Sold: 0
Product Views: 673