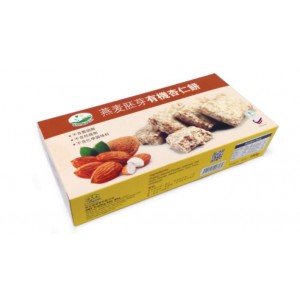 Secured Shopping
Best security features
Nationwide Shipping
Nationwide Shipping
Manufacturer Warranty
Manufacturer Warranty
GBT OAT GERM ORGANIC ALMOND COOKIES (180GM)-SNACK /BISCUITS
✓NO CHOLESTEROL
✓NO PRESERVATIVE
✓NO ARTIFICIAL FLAVOUR
Oat germ organic almond cookies is a full nutritious healthy snack food. It's contain unsaturated
fat, vitamin E, Dietary Fibre, Calcium, Iron & various type of mineral. Effectively reduce
cholesterol and the risk of heart attack. It's also can help improve metabolism and immune
system.
Ingredients :
Organic Almond Powder, Oatmeal, Oat Germ Powder, Wheat Flour, Corn
Flour, Himalayan Crystal Rock Salt, Filter Water, Vegetable Oil
Unlimited custom tabs or blocks in any position and any sort order. Assign buttons to any block or create separate standalone Button modules and set up your own grid layout inside the products page.
Stock:

1000

Model:

GBT-Oat-Germ-Organic-Cookies-180gm-Snack/Biscuits

Weight:

0.18kg

Dimensions:

30.00cm x 12.00cm x 6.00cm

SKU:

GBT-Oat-Germ-Organic-Cookies-180gm-Snack/Biscuits

MPN:

GBT-Oat-Germ-Organic-Cookies-180gm-Snack/Biscuits

Green Bio Tech
Products Sold: 0
Product Views: 516