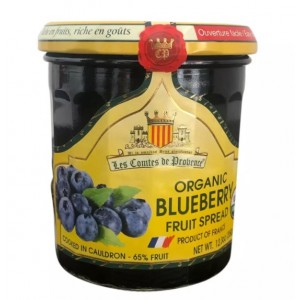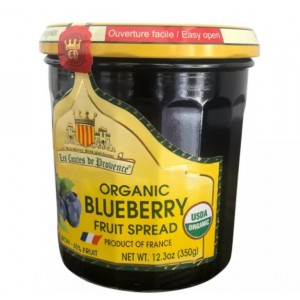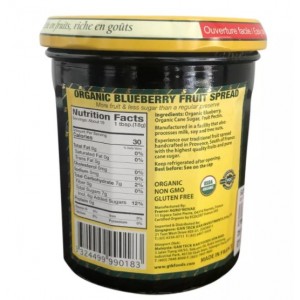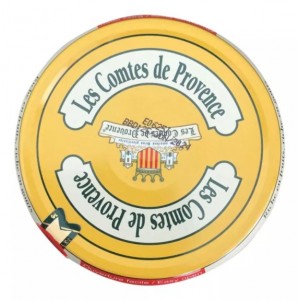 Secured Shopping
Best security features
Nationwide Shipping
Nationwide Shipping
Manufacturer Warranty
Manufacturer Warranty
LES COMTES DE PROVENCE Organic Blueberry Jam 340GM - JAM/SPREAD
Les Comtes de Provence jams are made of 65% organic blueberry plus cane sugar.

The whole fruits are cooked in pots, just like artisans used to do. The whole fruits are cooked
in pots, just like artisans used to do.
The selected fruit is always ripe and juicy, allowing their
full flavour to emerge when cooked. Only fruit which is brimming with water, sunshine and vitamins
can
endow jam with a powerful essence.
The quality of the sugar we use is also essential to the taste qualities
of the jam, which is why we only use sugar from sugar cane in our jams.
The decision to cook the fruit in pots has a major impact on the quality of our jams.
This traditional method utilized by artisans, not to mention our grandmothers, spreads the
heat out to ensure the fruit cooks evenly. Thanks to this method of cooking in pots, the jam is very
flavourful indeed.
Ingredients: Blueberries* (65%), cane sugar*, gelling agent: fruit pectin, acidifying agent:
concentrated lemon juice*. (* Organically farmed ingredients)
Raw materials from organic EU and non-EU farms
*Refrigerate and enjoy quickly after opening*
Unlimited custom tabs or blocks in any position and any sort order. Assign buttons to any block or create separate standalone Button modules and set up your own grid layout inside the products page.
Stock:

1000

Model:

Les-Comtes-De-Provence-Organic-Blueberry-Jam-340GM

Weight:

0.40kg

Dimensions:

13.00cm x 11.00cm x 13.00cm

SKU:

Les-Comtes-De-Provence-Organic-Blueberry-Jam-340GM

MPN:

Les-Comtes-De-Provence-Organic-Blueberry-Jam-340GM
Products Sold: 0
Product Views: 348