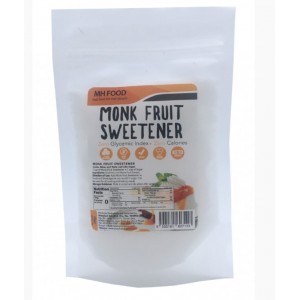 Secured Shopping
Best security features
Nationwide Shipping
Nationwide Shipping
Manufacturer Warranty
Manufacturer Warranty
MH FOOD MONK FRUIT SWEETENER (200ML) -SWEETENER
Monk Fruit Sweeteners taste just like sugar. Contains zero net carbs, zero calories, and is zero
glycemic index. Perfect for cookies, coffee, desserts, and other sweet, sugar-free treats.
What is monk fruit?
Monk fruit is also known as luo han guo or Buddha fruit, is a small, green gourd that resembles
a melon grown in Southeast Asia. The fruit was first used by Buddhist monks in the 13th century,
hence the fruit's unusual name.
Fresh monk fruit doesn't store well and isn't appealing. Monk fruit is usually dried and used to
make medicinal teas. Monk fruit sweeteners are made from the fruit's extract. Monk fruit extract
is 150 to 200 times sweeter than sugar.
The extract contains zero calories, zero carbohydrates, zero sodium, and zero fat. This makes it a
popular sweetener alternative for manufacturers who make low-calorie products and for the
consumers who eat them.
Lifestyle friendly:
Works with ketogenic, diabetic, candida, paleo, vegan, low-carb, low-sugar, non-GMO, and allnatural diets.
The direction of use:
1:1 Sugar replacement. Add the amount of Monk Fruit Sweeteners to foods and beverages as
you would in sugar.
Storage guidance:
Store in a cool and dry place after opening.
Ingredients:
Monk Fruit Extract and Erythritol.
Unlimited custom tabs or blocks in any position and any sort order. Assign buttons to any block or create separate standalone Button modules and set up your own grid layout inside the products page.
Stock:

1000

Model:

MH-Food-Monk-Fruit-Sweetener-200ml

Weight:

0.20kg

Dimensions:

12.00cm x 3.00cm x 16.00cm

SKU:

MH-Food-Monk-Fruit-Sweetener-200ml

MPN:

MH-Food-Monk-Fruit-Sweetener-200ml
Products Sold: 0
Product Views: 687