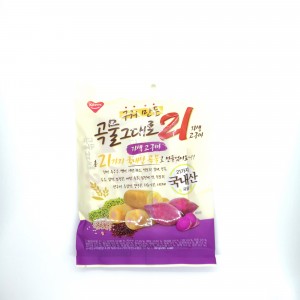 Out Of Stock
Secured Shopping
Best security features
Nationwide Shipping
Nationwide Shipping
Manufacturer Warranty
Manufacturer Warranty
KEMY Baked Grain Crispy Roll 21 (PURPLE SWEET POTATO) -SNACK
Kemy Baked Grain Crispy Roll 21
A delicious crispy baked grain snack with rich and creamy filling.
Every bite of Kemy premium crispy roll is akin to having a mouthful of 21 types of healthy
Korean ingredients for a perfectly wholesome yet delicious snack
It's made out of 21 unique kinds of whole grains, legumes and seeds.
Including brown rice, corn, white rice, millet, glutinous millet, rye, barley, sorghum,
glutinous rice, black bean, buckwheat, mung beans, black sesame, Adzuki beans, black rice,
black glutinous rice, kidney beans, seolitae (a kind of legume), seomogtae (a kind of small bean),
peas and sesame seeds. No preservatives added.
*Suitable for babies 1 year and above*
Product of Korea

Unlimited custom tabs or blocks in any position and any sort order. Assign buttons to any block or create separate standalone Button modules and set up your own grid layout inside the products page.
Stock:

Out Of Stock

Model:

Kemy-Baked-Grain-Crispy-Roll-21-Purple-Sweet-Potato

Weight:

0.30kg

Dimensions:

21.00cm x 20.00cm x 3.00cm

SKU:

Kemy-Baked-Grain-Crispy-Roll-21-Purple-Sweet-Potato

MPN:

Kemy-Baked-Grain-Crispy-Roll-21-Purple-Sweet-Potato
Products Sold: 0
Product Views: 597