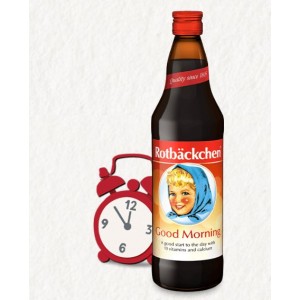 New
Secured Shopping
Best security features
Nationwide Shipping
Nationwide Shipping
Manufacturer Warranty
Manufacturer Warranty
Rotbackchen Good Morning Juice (700ML) - JUICE
For an optimum all-round nutrition

For the whole day

From direct juices with Rotbäckchen quality


Enriched with 10 vitamins und calcium
A daily serving of 150 ml already covers 23 % of the reference quantity of calcium and 75% of the contained vitamins.
Why Rotbäckchen Good Morning?
For our muscles to function properly and our bones to remain intact, our body needs sufficient vitamin D and the mineral calcium.
Calcium is called a "macronutrient", which our body needs in larger amounts every day compare to other minerals. Calcium supports
healthy bones and teeth. However, the body cannot produce calcium by itself and it must be supplied regularly through diet.
Vitamin D also helps to maintain healthy bones but also supports many other bodily functions.
Multi-fruit juice with calcium and 10 vitamins - Direct juice

Our Rotbäckchen Good Morning is made from red grapes, apples, aronia berries, elderberries, bananas, blueberries, blackberries,
supplemented with calcium and 10 vitamins to keep you going the whole day.
Nutritional value
In 100 ml:
Energy : 235 kJ (56 kcal)
Fat : < 0,5 g
- of which saturates : < 0,1 g
Carbohydrate : 13 g
- of which sugars : 13 g
Fibre : < 0,5 g
Protein : < 0,5 g
Salt : 0,03 g
Vitamins & minerals
In 100 ml:
Vitamin D3 : 2,5 µg/50%*
Vitamin B1 : 0,55 mg/50%*
Vitamin B2 : 0,70 mg/50%*
Vitamin B6 : 0,70 mg/50%*
Vitamin B12 : 1,3 µg/50%*
Vitamin C : 40 mg/50%*
Vitamin E : 6,0 mg/50%*
Nicain : 8,0 mg/50%*
Pantothenic acid : 3,0 mg/50%*
Biotin : 25 µg/50%*
Calcium : 120 mg/15%*
* % of the nutrient reference value

We recommend a daily portion of 150 ml. This covers 23% of the daily serving of calcium and 75% of each vitamin it contains.

We recommend a balanced and varied diet and a healthy lifestyle.
The German Society for Nutrition recommends different daily servings of vitamins and minerals for different age groups and development stages.
According to the German Society for Nutrition, 100 ml covers the following daily serving of vitamin C:

Children (1-3 years) : 20%
Children (4-6 years) : 16%
Children (7-9 years) : 13%
Children (10-12 years) : 11%
Children (13-18 years) : 10%
Adults (19 years and above) : 12%
Pregnant and breastfeeding woman : 12%
*Shake well and consume within 5 days after opening. Keep refrigerated after opening, Any cloudiness or sediment within the bottle occurs naturally*
*Store in a cool dry place*
Unlimited custom tabs or blocks in any position and any sort order. Assign buttons to any block or create separate standalone Button modules and set up your own grid layout inside the products page.
Stock:

1

Model:

Rotbackchen-Good-Morning-Juice-700ML

Weight:

1.00kg

Dimensions:

13.00cm x 10.00cm x 22.00cm

SKU:

Rotbackchen-Good-Morning-Juice-700ML

MPN:

Rotbackchen-Good-Morning-Juice-700ML
Products Sold: 0
Product Views: 578