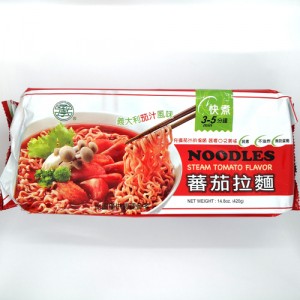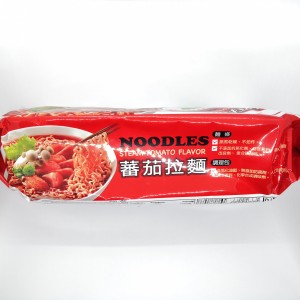 Secured Shopping
Best security features
Nationwide Shipping
Nationwide Shipping
Manufacturer Warranty
Manufacturer Warranty
Steam Tomato Flavor Noodle (420GM)-NOODLE
✓ Suitable for Vegetarian

✓ No fry
✓ No preservatives
[Fast cook: 3-5minutes]
Ingredients (Noodle): Unbleached wheat flour, tomato paste, water, salt.
Ingredients (Sauce Packet): Tomato paste, sunflower seed oil, ginger, apple vinegar (water,
glutinous rice, apple juice), black pepper, italian herbs (oregon leaves,basil leaveas,rosemary leaves,
red paprika,sweet marjoram leaves, parsley leaves),yeast extract powder, sesame oil,red chili
powder,sugar,
salt,tocopheral concentrate mixed (antioxidant).
Ingredients (Dehydrated Vegetables): Cabbage,carrots,corn,green peas,seaweed.
Allergy alert: This product contains wheat, soy and sesame.
*Store at room temperature, avoid direct sunlight and high temperature.
*Keep refegirated upon opening and consume as soon as possible.
Origin: Taiwan
Unlimited custom tabs or blocks in any position and any sort order. Assign buttons to any block or create separate standalone Button modules and set up your own grid layout inside the products page.
Stock:

1000

Model:

Steam-Tomato-Flavor-Noodle-(420GM)

Weight:

0.45kg

Dimensions:

24.00cm x 11.00cm x 3.00cm

SKU:

Steam-Tomato-Flavor-Noodle-(420GM)

MPN:

Steam-Tomato-Flavor-Noodle-(420GM)

ZENXIN
Products Sold: 0
Product Views: 511